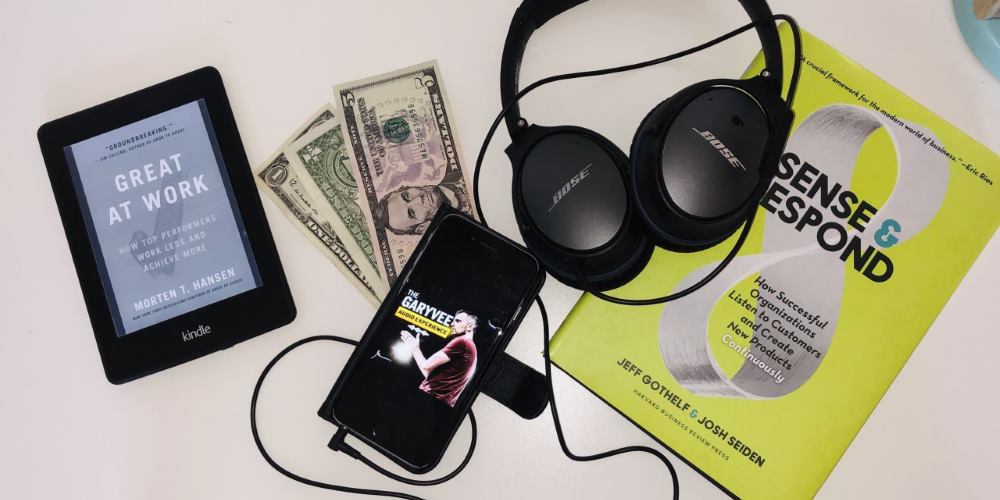 Why you need an investment strategy for your brain
Your brain is rotting. Not literally of course, but for most of us we are not learning as much as we used too, back when we were students. Despite our busy work life, our brains are not working at full capacity anymore. So just like you should invest some of your money every month in an investment fund for your pension, you should start investing some of your time and a few dollars each month into your brain. No really! It is not only fun; it is the absolutely best investment you will ever make!
In a fast changing world (goodbye newspaper typesetters and data entry clerks, hello social media experts, influencers and drone pilots), we can no longer rely on only what we learned in school to carry us all through our job careers.
In this new era the halflife of knowledge is just 5 years, and we are all starting to lag behind from the day we got out of school. This is known as the knowledge gap. And topping up your current skillset with a single course or even an MBA (if you can afford that) is not going to close the gap.
Because: a) It can't be a one time thing, and b) The world is moving so fast that most training programs aren't up to date either.
So what can you do to close the gap? You clearly need an investment strategy for your brain!
The Brain Fund strategy: The strategy I have chosen is pretty simple, but very effective. First you need to make a conscious decision to from now on to start investing in your self by teaching your brain new things consistently. Don't worry it is fun. Secondly you need to set up two investment funds:
1)    Your Time Fund: Carve out a few minutes (10-20 minutes will do) in your schedule daily or weekly. This is your time fund. "I am too busy" I hear you say. The good news is that this can be time while you do other things like doing the dishes, on your commute to work, or while exercising or walking the dog. Start small, but be consistent with your investment.
2)    Your Money Fund: Set up a separate bank account, PayPal account or a money jar, whatever works for you. Set up an automatic monthly deposit. It doesn't have to be much, whatever you think you can afford. It is fine to start small, like in the $1 to $10 range.
Do this now: Make a recurring appointment on the calendar of your smart phone to get an automatic reminder that this is now your "Brain Fund" time. It is fine to link it to something you are already doing, like your daily commute. Remember even 10 or 20 minutes is enough. You don't need to set up the Money Fund now, but remember to do it later.
Explore the jungle: With the time set a aside for increasing your knowledge and skill set, start exploring the amazing new jungle of knowledge that has suddenly appeared. In the past 10 years the sources for acquiring such learning has exploded, most of it is high quality, distilled in more concentrated form than before for faster (and more fun) learning. And most of it available for free! Audio, text, video, online courses. There is something for all kind of learners. Like Indiana Jones standing in front of a massive green jungle, looking to find the temple with the golden treasure or sacred artifact, you just need a few tools (a machete would be a good choice) and a treasure map to point you in the right direction. I will show you both.
The treasure map: Just like interest on a normal investment fund, the interest each month does not amount to much by itself. However, the force of compounding interest (the interest on interest), once described by Albert Einstein as "the most powerful force in the universe" results in a big effect over time. The same way we are going for the compounding interest of your investment in your brain, building your knowledge and skillset to make a real difference in your life. You might lose your job, or your type of work might not be relevant in a few years. Or you might be looking to pivot your career to the next level. With your increased knowledge and skillset, and most importantly, your skill to learn new skills fast will be your best investment ever!
So when picking what topics to delve into you should have a slight guiding on the general direction you want to go, but it is more important for you to pick topics that you find interesting and are genuinely curious about. Just like a normal muscle gets stronger with exercise, so does your brain gets more curious and better at absorbing knowledge with use!
The tools: The tools you should bring on your expedition is dependent on the type of time you have put into your time fund. If it is while exercising or driving to work, audio books and podcasts are a great way to go. If you are on a train or have time after the kids go to bed at night then I would recommend ebooks (like Amazons Kindle), YouTube and/or online video courses like LinkedIn Learning, Coursera or Creative Live.
4 free apps you should install right now are a podcasting app (see hack number 2 below for a few suggestions), the YouTube app, the LinkedIn Learning app and the Amazon Kindle app. With these on your smartphone you can learn anywhere you bring your phone and have a few minutes to spare.
The money, stupid: So with so much available for free, why do we need the money fund? First of all it is useful when you have learned a bit about a topic through free channels like YouTube or Podcasts and you come across a book (or ebook) that you want to buy. Instead of considering it as normal spending, use the money in the money fund to buy it. It is not a cost, it is an investment.
Later you might decide to invest in online video courses. These range in price from $19 to $1000, and can provide excellent value.
Once you feel like you have amounted enough knowledge on a topic, I would recommend doing an online course that will certify your new skills with a verified certificate or diploma. Several high profile universities like MIT and Stanford will run you through a course that gets you a formal certification for a few thousand dollars.
The golden treasure: Just like gold has been considered valuable across human civilizations, so being better at certain skills will be valued across whatever you do. Being an executive or a sales clerk. So these are always great to research.
Here are my little list of personal favorites:
Improve your presentation skills to get your ideas across, be it to customers, colleagues or your boss!
Using social media to your advantage, to increase your business, get leads or make yourself more visible to future employers!
Networking: We all have networks of people we know, but by being more conscious about how we maintain and use our networks we can get extraordinary results!
Learn how to negotiate better: This is useful for negotiating a business contract as well as your salary. Most of us are hopeless at it, so getting even a little better will get you much better deals.
4 great hacks: Here are four investment hacks to give you a kick start on your new habit:
YouTube is full of great videos that will build your skillset. All available for free! Start by searching YouTube for "better presenter", "social media business tips" or "negotiate like the FBI".
Get a podcasting app on your phone. Podcasts are like radio shows you download and listen too, and there are thousands on all kind of topics. Popular apps for listening to podcasts are Overcast (iOS), Google Podcast (Android) and Spotify (Android and iOS).
When deciding on a book to read on a topic, check that it has at least a 4 star rating on Amazon. Then download the first chapter for free with Amazon Kindle for a few on them to sample before you decide which one to buy. This takes a bit longer than just buying the first one you see, but reading a book is an investment both in time and money so choose them carefully. Remember the book might be great, but not written in the style that you prefer.
Find your virtual mentors. When you come across a person, influencer or author you really like and learn from, follow everything they do and turn them into your virtual mentor. Subscribe to their podcast, YouTube channel, read their blog and buy their books. Currently my virtual mentors are Gary Vaynerchuck (of the GaryVee YouTube channel), Pat Flynn (of the Smart Passive Income podcast) and Dave Stachowiak (of the Coaching for Leaders podcast).
Start today to put the "most powerful force in the Universe" to work for you. Set your new daily (or weekly) routine, be curious and start investing in yourself! You won't regret it!
So will you join me in investing in a better self by being strategic with your investments in yourself?
I would love to hear what topics you are most looking forward to start research first. And what time of day or week did you put in Your Time Fund?
Do you know someone who might be stuck in their current career, or need some help to get to the next level? Please share this post with them, I am sure they will be grateful you did.
First published by me on LinkedIn August 1. 2019 as Why you need an investment strategy for your brain